Copper Country Slow Pitch Softball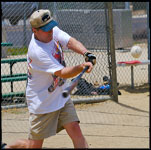 Welcome to the home of the Copper Country Slow Pitch Softball League!
This web site is your resource for information regarding slow pitch softball in the Copper Country. Stats, scores, and more are only a mouse click away. Play Ball!!
News & Announcements
Attention Team Managers
- You will need to re-register a new username/password to access your team for the 2021 season.
Welcome to the 2023 Season
- The 2023 Copper Country Men's Slow Pitch League season is getting underway!
Now Mobile Friendly!
- We've updated the site to be mobile friendly. CCLSLOWPITCH.COM is now responsive in mobile browsers for a better viewing experience!
Equipment
Our league follows the ASA's rules for equipment.


Certified Equipment